I'm a big fan of the aqueous homogeneous reactor. These are nuclear reactors that have their fissile fuel in an aqueous solution, rather than as solid fuel rods.
Back in the late 1950s there was a major program at ORNL to try and develop an AHR on the Th-U233 cycle for commercial power production
, but extreme corrosion issues resulted in the cancellation of the program. ORNL researchers decided (rightly, in my opinion) that molten-salt reactors were a better idea.
Soviet researchers never attempted to develop AHRs for power production, but they did develop these reactors for a practical application: radioisotope production for medical use, in addition to certain research applications. To this end they developed a series of AHRs culminating in the ARGUS: a miniature AHR producing a mere 20-50 kw thermal.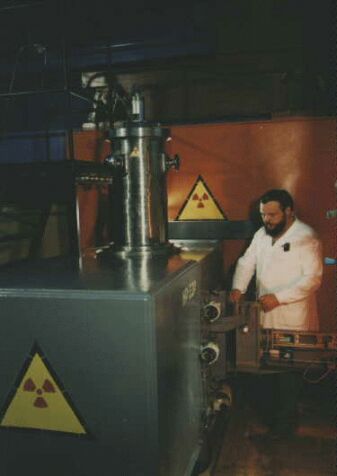 The ARGUS reactor: it's a wee little beastie


The AHR has two big advantageous for medical isotope production: firstly, its fluid fuel form makes extraction of isotopes from the fuel much simpler than from solid-fuel reactors. Secondly, AHRs have excellent safety characteristics. They have strongly negative temperature and void coefficients, making them essentially self-controlling. However, the corrosion issues associated with uranyl sulphate fuel have resulted in the abandonment of AHR research in most of the world. This is not the case, however, in Russia. In September of last year the Physico-Energetic Institute in Obninsk (normally known as the Institute for Physics and Power Engineering)
announced plans to build a new nuclear medicine facility on the basis of a modernized AHR
:
На промышленной площадке ГНЦ РФ «Физико-энергетический институт» в г. Обнинске Московской области предлагается создать комплекс по производству радиоизотопов на основе новой технологии с применением растворного реактора малой мощности. Как отметили в ФЭИ, проект растворного реактора для наработки и выделения радиоизотопов непосредственно из топливного раствора является одной из самых существенных разработок, осуществленных с участием радиохимиков. По словам директора отделения изотопов и радиофармпрепаратов ФЭИ Николая Нерозина, проект позволяет использовать реактор малой мощности 50(82) кВт для получения следующих изотопов медицинского назначения: Mo-99, Sr-89, Xe-133, а также смеси изотопов йода.

In the industrial sector of the GNTs RF "Physico-Energetic Institute" in the city of Obninsk, Moscow Oblast, the construction of a complex for the production of radioisotopes on the basis of new technology utilizing a solution reactor of low power is planned. As described by FEI, the project for a solution reactor for the production and extraction of radioisotopes extracted directly from the fuel solution is one of the most significant developments, being carried out with the assistance of radiochemists. In the words of the director of production of isotopes and radiopharmaceuticals Nikolai Nerozin, the project will utilize a reactor of low power 50(82) kWt for the production of the following isotopes with medical uses: Mo-99, Sr-89, Xe-133, and also a variety of isotopes of iodine.

From the published articles I gather that this reactor will be an evolved version of the ARGUS, designed to operate on 20% U-235 rather than the HEU utilized in the original ARGUS. Given the recent economic downturn, these plans for a new AHR in Obninsk may be scrapped, but clearly the researchers at the Kurchatov Institute and IPPE believe that the AHR is the solution to the worldwide problem of producing radioistopes for nuclear medicine without resorting to reactors using HEU. Personally, I wish them all the success in the world.